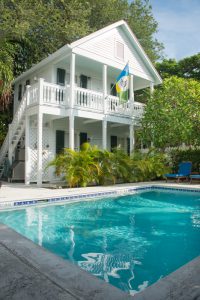 Direct descendants of the original Key West settlers and pioneers, the innkeepers of the Conch House possess a rich legacy that reads like a history of the island itself. On the Bahamian Conch side of English ancestry, there are the Lowes and the Currys from Green Turtle Cay in the Abacos. More came by way of Philadelphia in 1852, when brick mason John J. Delaney left there to help build Fort Zachary Taylor.
The Conch House came into the family from its Cuban ancestry after Carlos Recio purchased the property in 1895. Arriving in Key West in 1872, he had built the largest wholesale/retail grocery store on the island. A close friend of Cuban revolutionary Jose Marti, Recio did much to help the Cuban freedom effort, including smuggling supplies to revolutionists on merchant ships.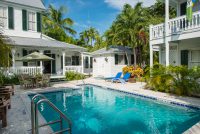 It was his daughter, Herminia, who made the Conch House her home, along with her four children and husband Lance Lester, whose own family's history and influence in Key West dates back to the mid-1800's. Captain Joseph Lester of England settled here after following the sea for many years. Captain John Whalton, another Lester ancestor, established the first lightship at Carysfort Reef off Key Largo in 1826 and died there in an Indian ambush a decade later.
Lance Lester himself was the first graduate of Key West High School and the University of Florida Law School. He devoted his entire life to the service of Key West citizens, first as a respected lawyer, then as city and state attorney. The Monroe County Justice Building is named in his honor.
Today, the tradition continues…and the best is yet to come!